At Bebelac, we believe love and care can help when looking after your little ones. The Bebelac Junior Growing up Milk Stage 4 comes in a wave of innovation to the growing up milk with Nutri 7in1: a revised functional stamp with a new packaging. This nutritionally complete formula contains the 7 essential nutrients calcium, iron, omega 3, prebiotics, Vitamins C&D and Zinc, gentle on the tummy and supports your child's growth and development: all in one pack!
Along with physical, cognitive and emotional development, social development is an important domain of childhood development that may impact current and future outcomes. Proper nutrition is a vital factor that can help ensure healthy social development of infants.
Bebelac Junior Growing up Milk Stage 4 with Nutri 7-in-1 contains: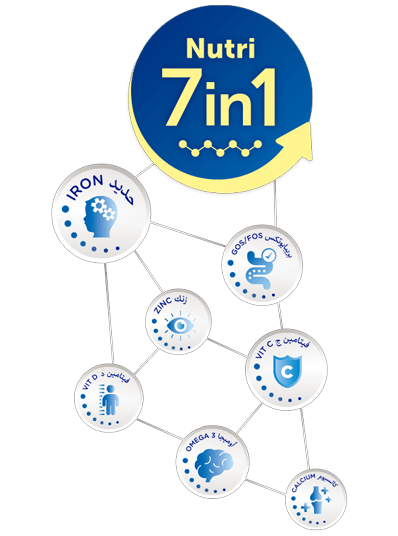 Features & Details
Original Bebelac Growing Up formula in a new look
Nutri 7in1 – combining our blend of the 7 essential nutrients
Our patented blend of GOS/FOS & Zinc for digestion
Omega-3 (DHA) & Iron support brain development
Calcium supporting strong bones
Essential Vitamins C&D for supporting growth and iron absorption
Important Notice:
Breastfeeding is best for babies and a healthy diet / maternal nutrition is important when breastfeeding. A decision not to Breastfeed can be difficult to reverse. Infant formula is suitable from birth when babies are not breastfed. It is recommended that all formula milks be used on the advice of a doctor. midwife, health visitor, public health nurse, dietitian, pharmacist, or other professional responsible for maternal and childcare and the financial implications should be considered. All preparation and feeding instructions should be followed carefully as inappropriate preparation could lead to health hazards.